Before they decided to name the show Friends other working titles included Insomnia Café, Friends like Us and Six of One.
pinimg.com
The opening credits were shot at Warner Bros Studio, not gramercy park or central perk.
wordpress.com
The cast went on a Vegas trip before the show aired.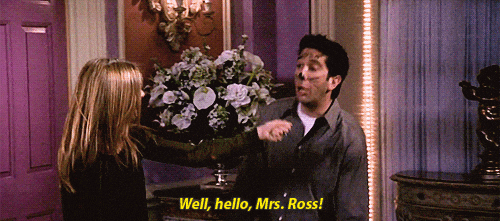 giphy.com
Lisa Kudrow hated playing guitar at first.
Monica was an early Mental_Floss fan.
wordpress.com
They were the first TV cast to negotiate as a group.
Bruce Willis appeared on the show for free after losing a bet to Perry.
Jennifer Aniston almost didn't return for the last season.
ibnlive.in
David Schwimmer was the first friend to be cast in the show and Ross was written specifically with David in mind for the part.
None Of The Friends Know How Old They Are.
They wrote the triplets storyline for Lisa Kudrow to cover the real life pregnancy of her son Julian
In case you've been wondering why Matthew Perry's missing part of his middle finger, he slammed it in a door when he was in nursery school